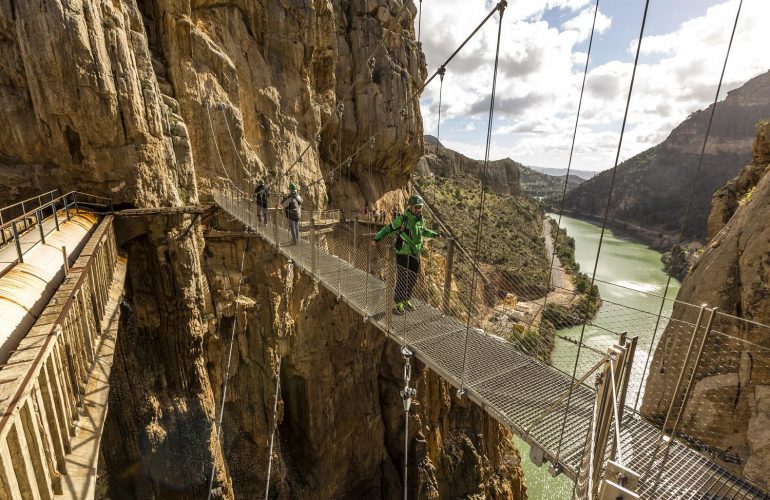 The King's Litte Pathway called the Caminito del Rey is an amazing walk through a beautiful gorge with rocks of several hundred meters of hight to each side. It is a great experience and definitely worth the trip in spite of the many tourists – and in spite of all the trouble of getting tickets for the entrance. The Caminito del Rey was restored in 2014 and has re-opened to the public after being closed for 15 years. It is now completely safe and unproblematic to walk. And it is a great natural experience. If you want to read more about the Caminito del Rey please see this article on CNN.COM.
If you want to walk the Caminito del Rey during your stay in Andalusia you will have to buy tickets in advance. You should buy them as early as possible on this link, since the tickets sell out far in advance: Caminito del Rey (click ENG in the upper right corner to get the page parcially in English). The entrance is 10 EUR per person and the shuttle bus back to the entrance is 1,55 EUR per person.
The site is only parcially in English, but luckily it is easy enough to figure out:
1. First click "CAMINITO DEL REY" (to logo to the left) and "ENG" in the upper right corner.
2. Then click a date
3. Click on the desired starting time (click "SELECCIONAR" or "CHOOSE").
4. Further down click on "+" until you reach the right amount of tickts (under "Entrada general + Autobús" for both tickets and shuttle bus).
5. Then click "COMPRAR" or "PURCHASE".
6. Scroll down. Enter name, phone no., passport number and email address.
7. Mark the 3 options at the bottom (accept the general conditions and privary policty) and click "FINALIZAR"/"FINISH".
8. Enter card number, name, expiry date, security code and click "PAGAR" to pay.
Unfortunately the tickets sell out very early. When that happens there are 3 other ways of getting tickets:
1) Book through an agency (which is generally more expensive and includes another kind of service as well), e.g.: GetYourGuide,  Aloratur, Kora Travel eller La Garganta
2) Buy unsold tickets release for sale 4 days before on Caminito del Rey
3) Buy tickets by the entrance (get there on a working day early in the morning and expect ½-1 hour of waiting time)
We hope that one of these methods allow you to get tickets for the Caminito del Rey.
---